All writing is the copyrighted intellectual property of Jesi Bender.
August
There's a flaxen, moon-face ingénue
with the Cannibalistic Eucharist
She wonders of a threshold unlimited
Some holy sheen cloaking the obsidian

We are controlled by the limits
of an ugly science, its soft criteria
Evolve or revolve
There are no other options
Besides decay

Once he sat on dresser drawers,
Crying - I CAN FEEL THE WORLD -
The weight was palpable and in the dark
Her comfort felt like pejoratives

Oh you who in darkness
Mourn the wet-hot sweetness
Of the morn in this body,
In this uncomfortable thing.





---
Powered by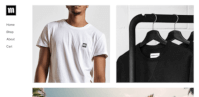 Create your own unique website with customizable templates.